Hello Knitters!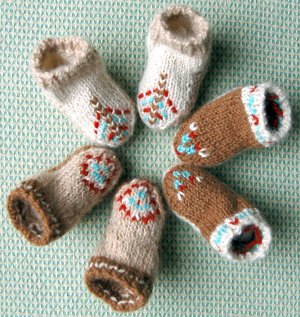 Whether you've got a list of baby showers to attend, are looking for patterns to knit for charity or if you're pregnant with your own little bundle of joy, this collection of itty bitty knits is just what you need.
From these festive Baby Moccasins to the more basic designs below, you'll find something that will inspire you to knit no matter what your skill level.
More Knit Baby Booties

1. Easy Baby Booties
2. Bev's Stay On Booties
3. Knit and Purl Baby Booties
4. Two Needle Baby Booties
5. Bitty Baby Uggs
6. Seamless Baby Booties
7. Big Red Baby Booties
8. No Button Baby Booties
9. Winged Baby Booties
10. Little Monster Baby Booties
11. Simple Seed Stitch Baby Booties
12. Rocks Socks
13. Minty Fresh Baby Booties
14. It's Party Time Baby Booties
15. Baby Moccasins
Are you over 55...or do you have a loved one who is? Then you'd better take a close look at this from our sponsor! It's All Free For Seniors!

Every year Uncle Sam gives away hundreds of millions of dollars in cash, goods, and services to people just like you. All this free stuff however, is perhaps one of America's best kept secrets. Now, an amazing new book entitled "Free for Seniors" reveals thousands of sources of these fabulous freebies that are yours for the asking. Read more details from our sponsor here...


Happy Knitting,



Editor of Knit Picky Patterns



P.S. Make this lacy sweater in just one week. Get the free pattern on the blog!


P.P.S. Come find over 50,000 craft supplies in stock at discount prices. Craft, crochet, knitting, scrapbooking, quilting, needlework, rubberstamping, sewing supplies, art supplies, and more. Enjoy one-stop online shopping at CutRateCrafts.com.